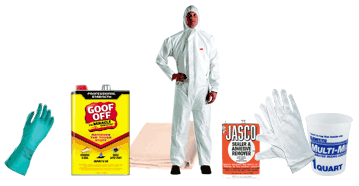 For current pricing, please call or stop in our store.
For product/stock number information, please check this page.
For solvents and thinners for cleaning tools, please check this catalog section.
If there's specialty cleaning items you'd like us to special order for you, let us know!
---
Here are the product brands we carry:
NOTE: As distributors of these products, we do not carry every item available from each company; please call ahead to see if we have an item in stock or if it can be ordered for in-store pickup or delivery.
Solv-X Gloves
Goof-Off Cleanup
Wallpaper & Adhesive Remover
Drop Cloths, Tack Cloths, Cheesecloth, Cotton Knit Gloves, Shoe Cover Booties, Coveralls
Other Items
Waxed and Unwaxed Paper Pails, Metal and Plastic Pails, Paper Buckets, Pail Liners, Multi-Mix Containers, Rags (Boxed and 50 lb. bags), Wide Boy Bucket, Window and Toilet Brushes, Cotton and Latex Exam/Work Gloves, Pro Chemical Gloves, Lift-Off Cleaner
---