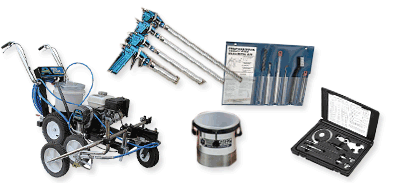 For current pricing of parts, please call or stop in our store.
If you are looking to rent spray equipment, give us a call or stop in and we'll help you out!
---
Here are the product brands we carry:
NOTE: As distributors of these products, we do not carry every item available from each company; please call ahead to see if we have an item in stock or if it can be ordered for in-store pickup or delivery.
Pump Conditioners, Field Stripe Plus
Airless Spray Guns and Accessories (ASM 300-Series, 400-Series), Pump Sensors, Filters, and Repair Kits, Super Zip-Tips, Uni-Tip Seals and Spray Tips, Extension Poles, Hoses, Pump Defender Spray Gun Lubing
Equipment Repair Kits and Replacement Parts for Various Sprayers (Airless Hosing, Spray Filters, Pressure Gauges)
Magnum XTR-5 Airless Spray Gun, Airless Sprayer Pumps, Filters, Hosing, Tips and Tip Guards, Repair Kits
2001 Manual Spray Gun, Spray Vantage 100 Pro Manual Spray Gun, Mach 1 SL Spray Gun (and Spare Parts), Spray Booth Filters and Paper, Air and Fluid Nozzles, Gaskets
Spray Painters and Accessories
Other Items
Reflective (Highway) Glass Beads, Gaskets and Pot/Tank Liners, Equipment-Cleaning Brushes, Sprayer Repair Kits and Tools
---